Design Partnerships with National Accounts
As the COVID19 pandemic sweeps through our country and the world, corporations are busy determining their strategic approaches to business continuity, particularly as states begin entering into the restart phase and employees begin returning to the office.
As an architecture and design firm, we are uniquely positioned to assist our clients in the spatial ideation and implementation of social distancing protocols—ensuring policy is enabled and employees and businesses remain healthy and safe. It is particularly evident in times like these that businesses of today need more than just a design firm.
Traditionally, architecture and design projects have clearly defined beginnings and ends. Once a client occupies the completed project; photos are taken, hands are shaken and communication halts to the occasional 'hope you are doing well' emails.
At Workplace Architecture + Design, we have a different perspective to offer the businesses we work with: we have the experience, knowledge, and talents to operate as more than just the typical designer-client relationship, but as true strategic partners.
As strategic partners, our projects do not come to a close with a handshake (we prefer 'air fist bumps' these days) —and our line of communication does not close either. A partnership places value on organizational and cultural engagement equally as much as the emphasis is placed on an individual project. The end product of a strategic partner is not simply the built environment, but instead, all of the elements that support that environment and effectively meet their business purpose.
Benefits For Clients
Workplace Architecture + Design serves as strategic partners for a number of organizations: working on projects across the country, and even dipping into international waters recently. Our services look at our partner's entire portfolio of facilities, not just an individual building, in an effort to strategically resolve issues through careful planning and design. The services we provide as strategic, long-term partners are:
Portfolio Analysis and Optimization — We review organizational data and forecasted growth/contraction against facility layouts and capacities. This leads to finding and implementing select facility changes that allow for the best use of capital against spatial needs (i.e. individual projects that provide the most value for the money).
Development of Brand Standards — Blending all aspects of design (space allocations and size, materiality, design, and workplace strategies) with company culture (work flows, collaboration approach, branding), we help create a deployable guide for company-wide office design.
Negotiated Agreements — Working on behalf of our partner, we assist in the outreach and development of agreements directly with manufacturers to provide cost-saving solutions for hard costs such as furniture, flooring, and audio-visual needs
Best-of-Class Planning and Design — Our design team incorporates a deep-rooted understanding of our client's needs and culture with creativity and immense talent to produce highly innovative and cost-effective results. Our connected knowledge with our client leads to faster projects, delivered for less money—on a consistent basis.
The benefits of becoming strategic partners with our team are immense: creating thoughtfully curated culture management (versus unpopular mandates), improved recruiting and retention, major cost avoidance and savings on all projects, and a sustainable and healthy built environment that embodies your company's values.
One Example – National General Insurance
An example of one of our strategic partnerships is our work with National General Insurance Company (NGIC). Beginning with a complete analysis of the company's Winston-Salem headquarters in 2012–an analysis that resulted in a strategic relocation to a nearby multi-facility campus—Workplace Architecture + Design has since become the company's nation-wide architectural and design partner. Our work with NGIC has included:
The development of corporate design guidelines that have been implemented across the country and include: spatial allocation and design strategy, furniture standards, finish standards, appliance standards, and Audio-Visual standards
Projects across ten states — stretching from North Carolina and New York to Wisconsin and Oregon.
Rapid space planning and lease opportunity analysis
David Wolf, National General's Vice President of Facilities, has seen the benefits of working with our team across the country. "We can rapidly deploy projects anywhere in the United States and know that cost controls and brand consistency will be delivered."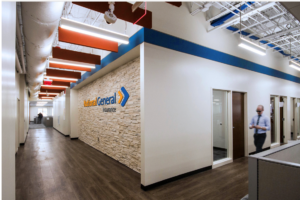 FEATURED PROJECT: 450 Hanes Mill Road, Winston-Salem, North Carolina
The fourth, and most recent, building within NGIC's Madison Park campus, the work at 450 Hanes Mill represents a multi-phased project to meet the growing spatial demands of National General's Winston-Salem location.
Beginning with an analysis of multiple expansion options—including additions, new construction, and potential moving — the resulting renovation of 450 Hanes led to the most cost-effective strategy for a growing company. The building consists of approximately 81,000 square feet that include training facilities, open and enclosed office space, meeting rooms (of all sizes), both renovated and new restrooms to serve the population, and multiple break rooms. The project also included upgrades to the building's mechanical and electrical systems.